09 Apr 2014
Son-San Goes to Washington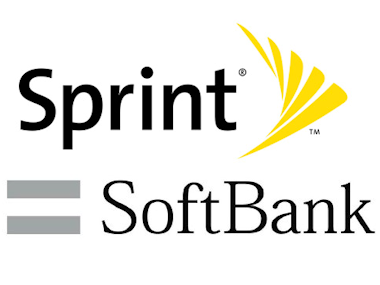 Disclosure: At the time of publication of this article, the author owned common stock in Sprint Corp (NYSE: S).
Masayoshi Son, the visionary and inspirational founder of Softbank, who some call the "Japanese Bill Gates", has been making a media push in the last couple of weeks to support a potential merger of Sprint and T-Mobile. He appeared on Charlie Rose to tell his story and discuss the U.S. wireless market, and soon thereafter he presented his thoughts on the wireless and wireline market – and his vision for Sprint/SoftBank (Sprint is approximately 80% owned by SoftBank) – to the U.S. Chamber of Commerce.
Son's take on the U.S. wireless market is best summed up by taking a look at some key slides used during his Chamber of Commerce presentation: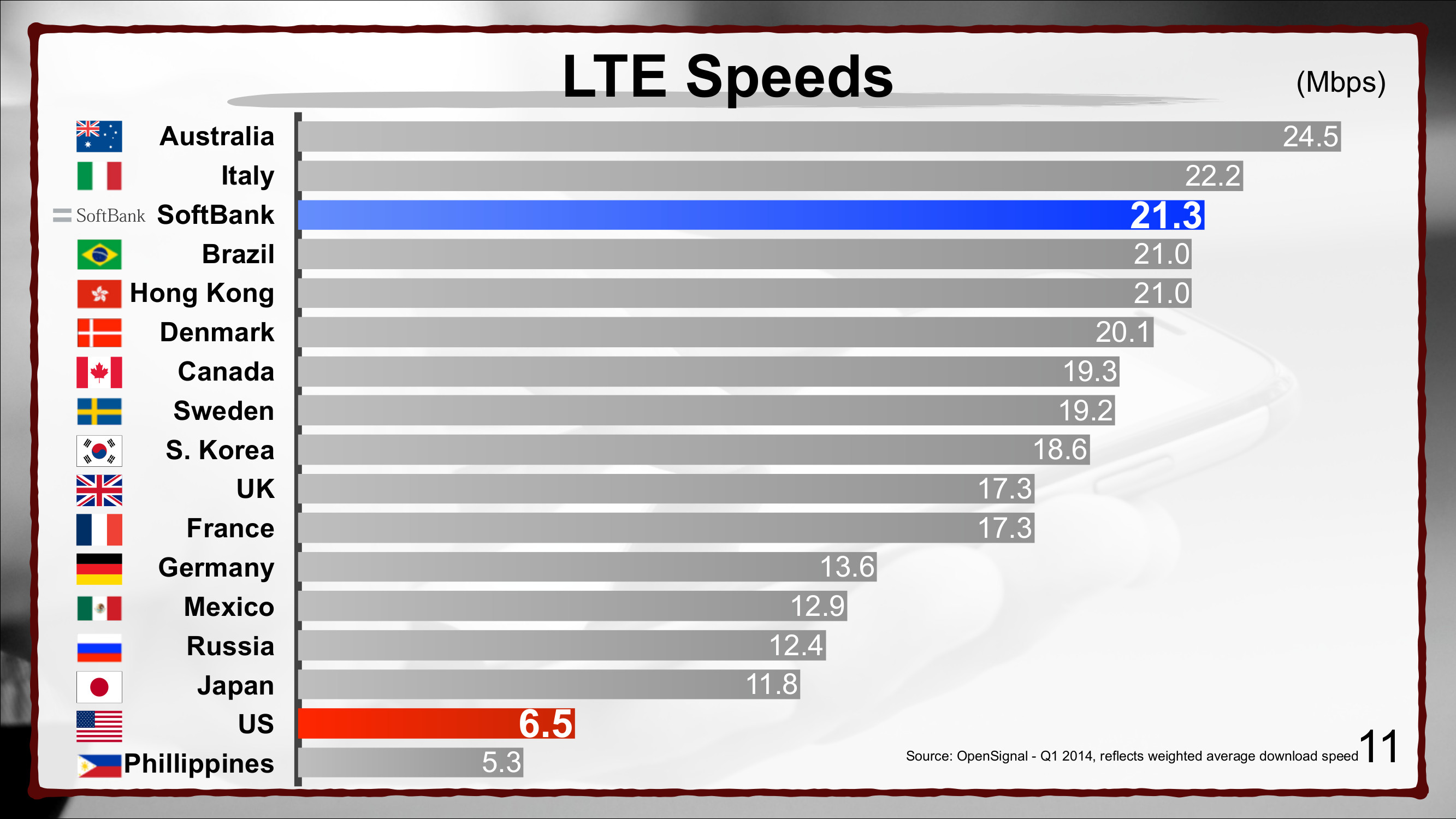 Among countries with LTE networks, the U.S. has one of the slowest average LTE speeds.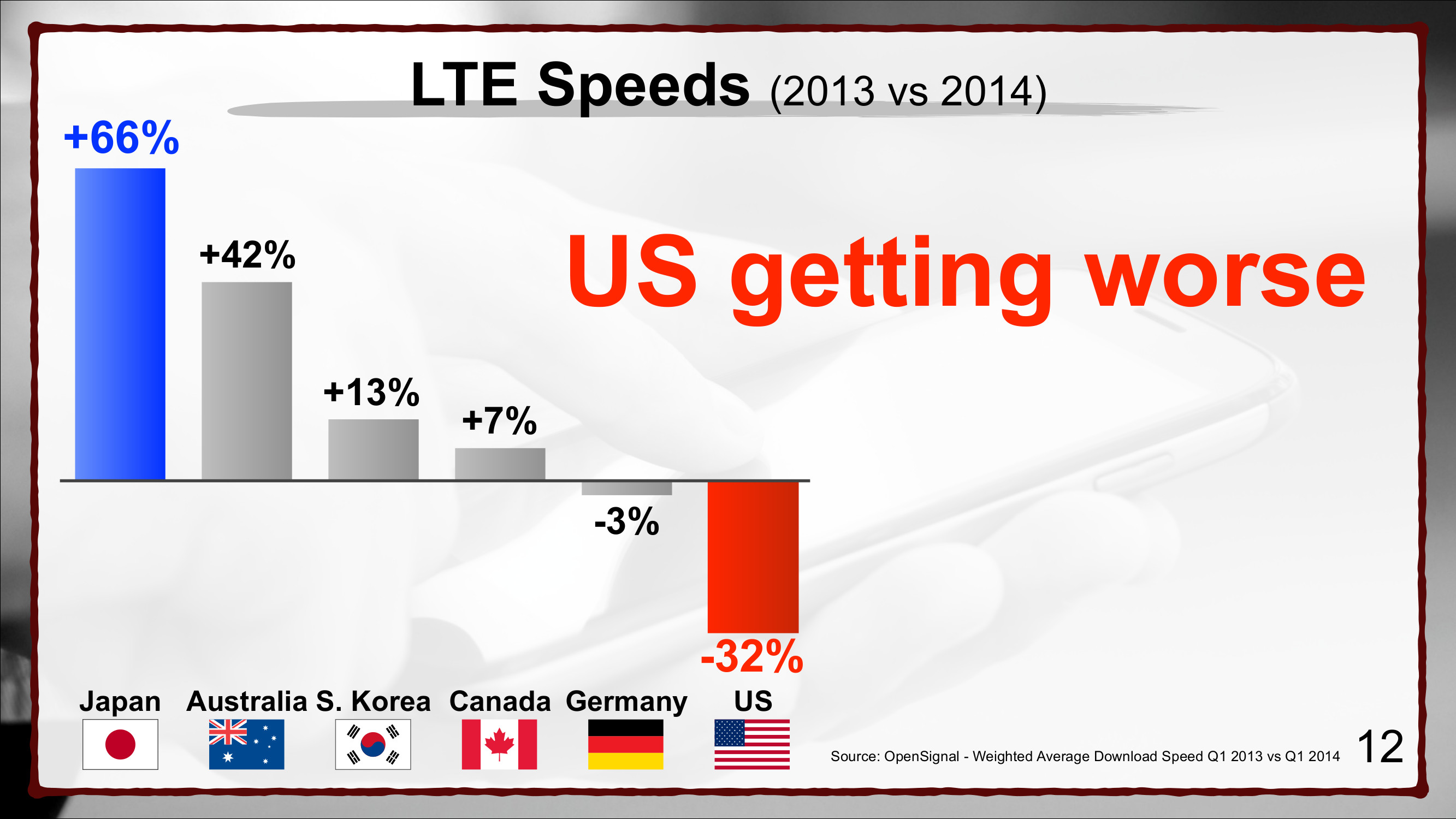 In fact, LTE speeds are actually getting worse in the U.S. because of underinvestment by the dominant wireless providers (i.e., AT&T and Verizon).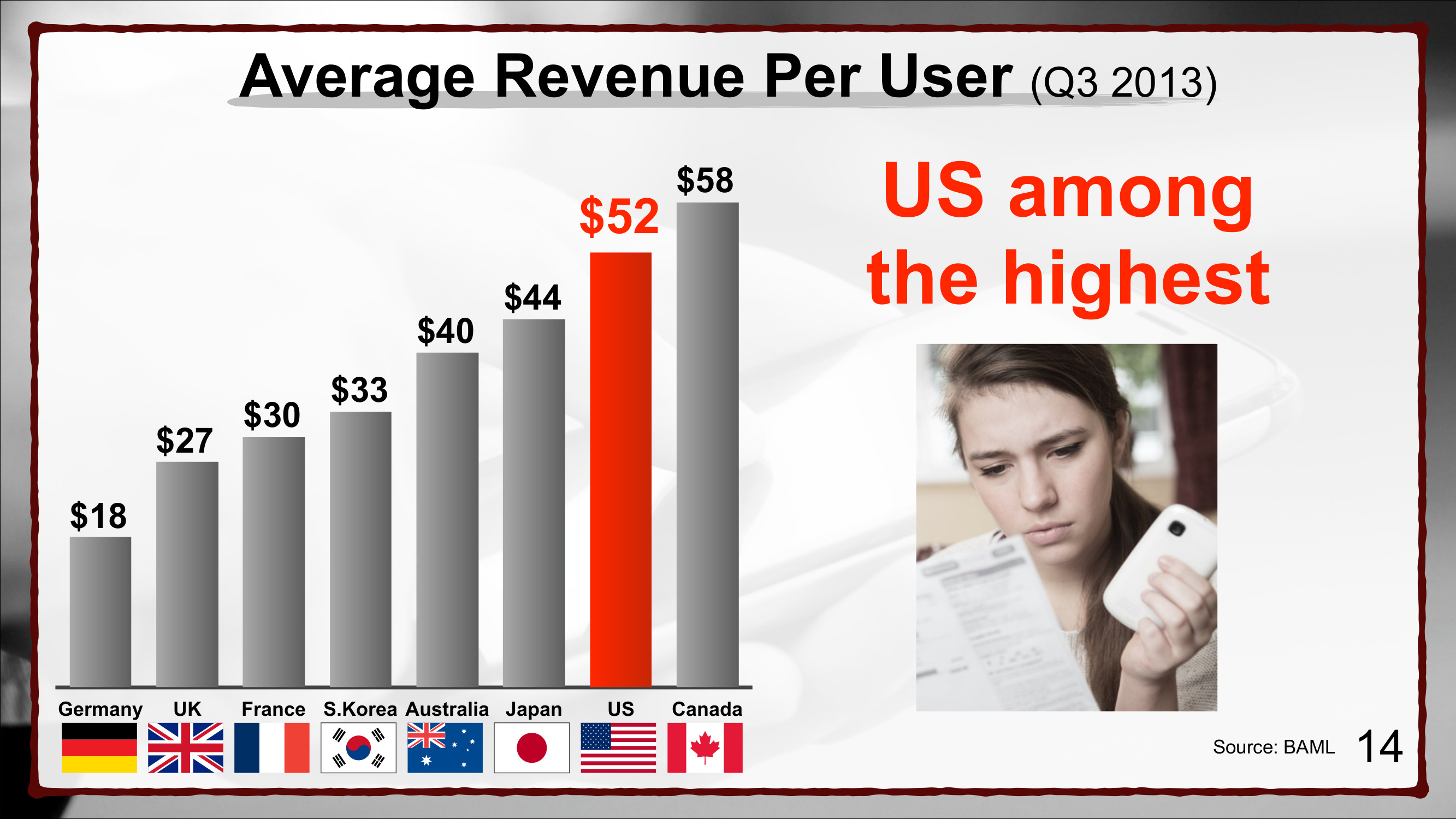 At the same time, average revenue per user (ARPU) for U.S. wireless providers is among the highest.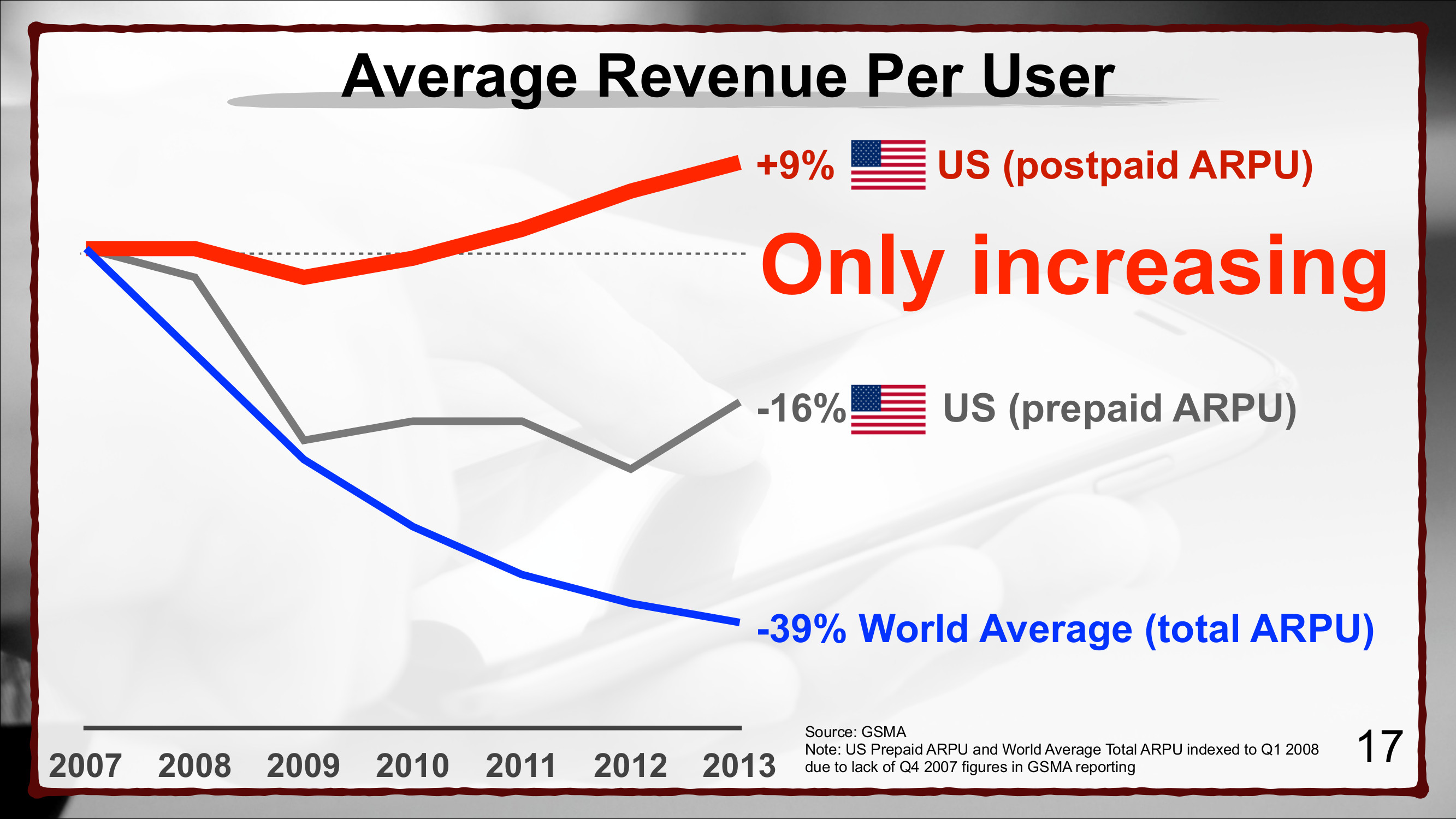 And postpaid wireless ARPU in the U.S. only continues to increase, while the rest of the world is seeing drops in wireless ARPU.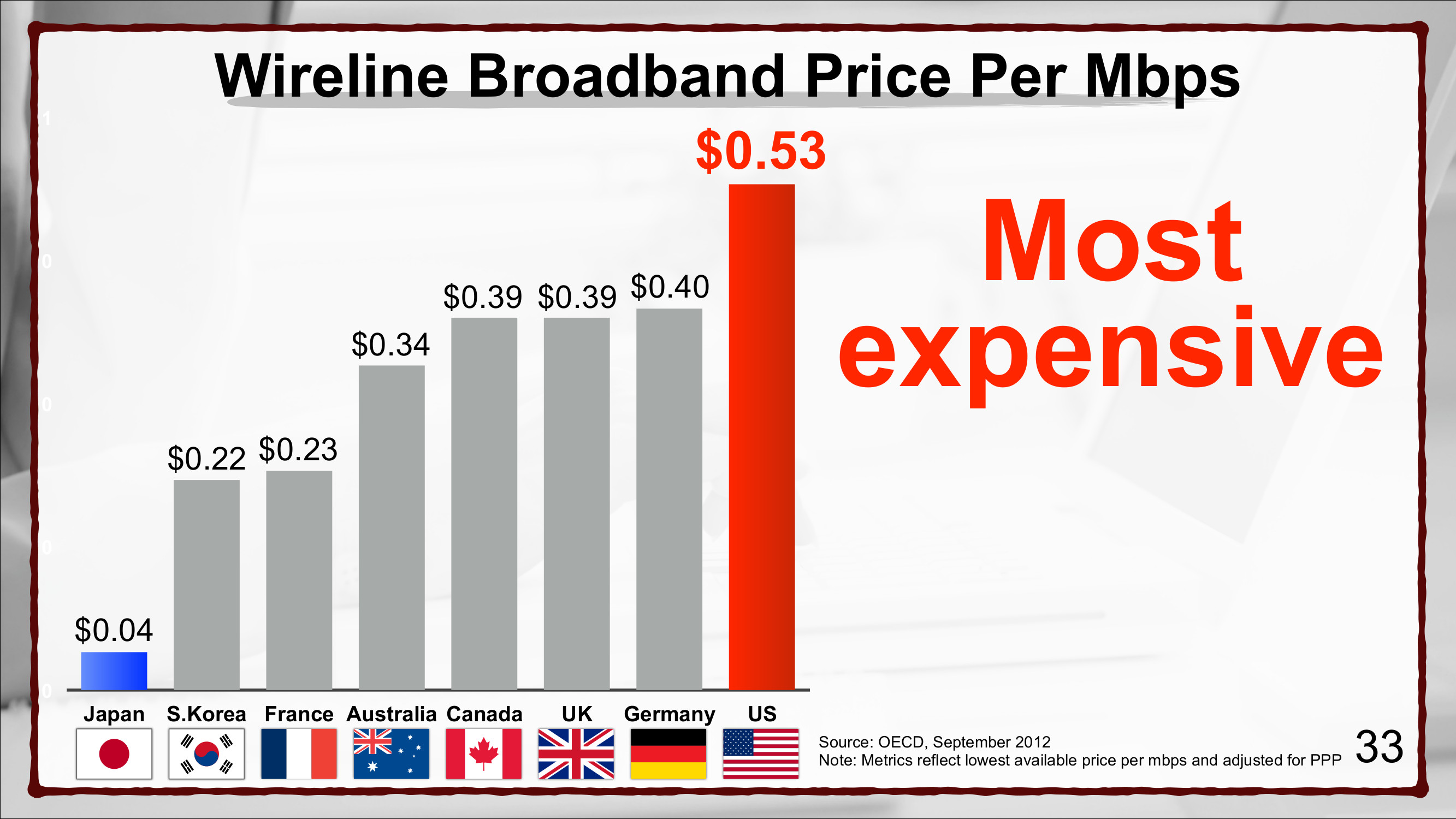 Son also notes that wireline broadband is very expensive in the U.S. on a per Mbps basis.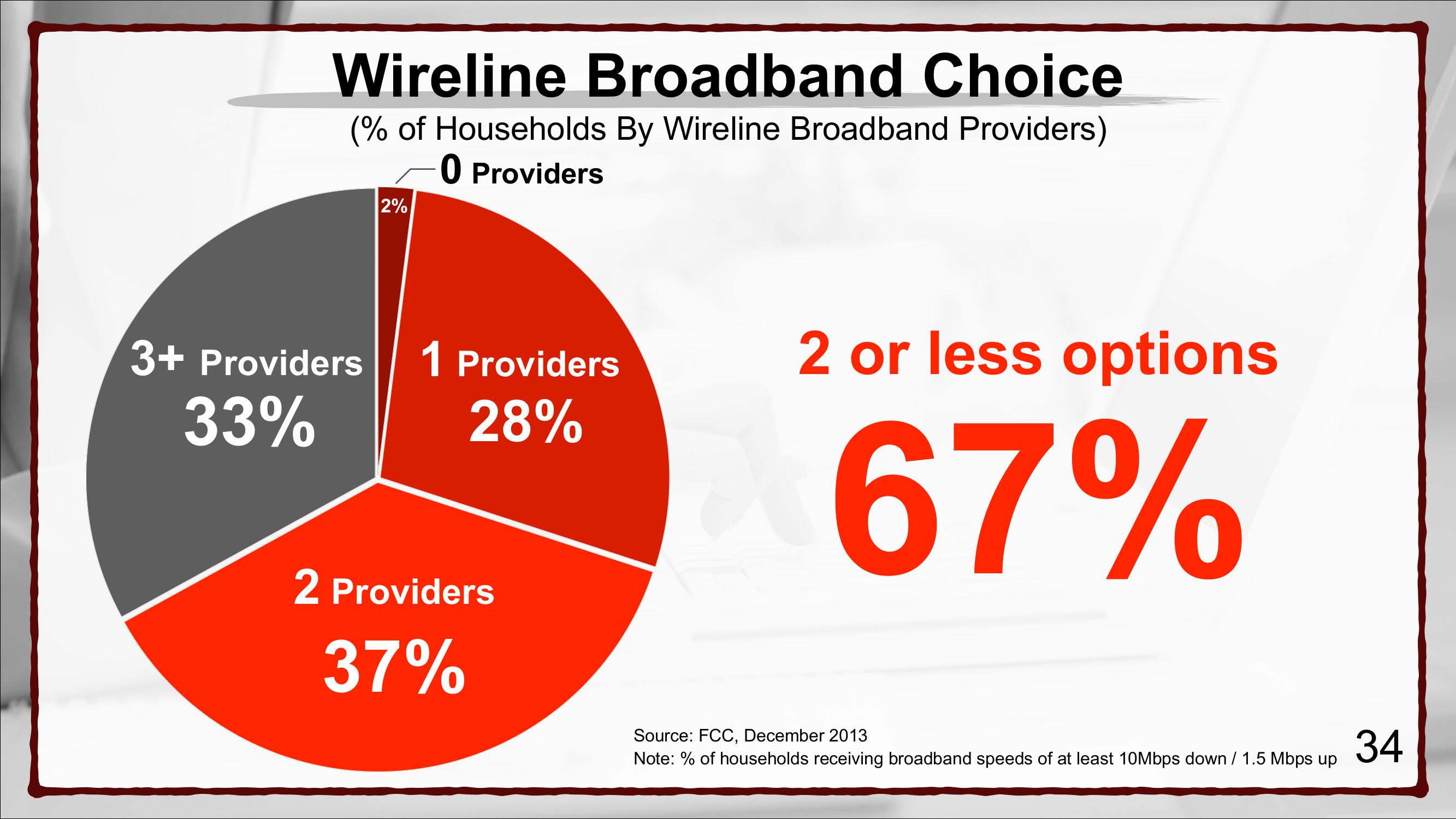 This is because over two-thirds of U.S. households have only two (or less) options to choose from for wireline broadband service.
Son's proposed solution to the problems he sees in the wireless and wireline broadband markets is to allow him to merge the number three and four wireless providers – Sprint and T-Mobile – so that the merged entity can more effectively compete with the two dominant wireless companies and eventually compete with the wireline broadband providers. Son on Charlie Rose:
Look, we need a certain scale, but once we have enough, it's a three-heavyweight fight.  I'd like to have a real fight, not a pseudo fight.  And if I can have a real fight, I'll go in for a massive price war.  I want to be No. 1, right?  So I would go for price competition very aggressively and network competition to create the world's best network.
Once again, Son lays out his evidence supporting the beneficial effects of a Sprint/T-Mobile merger in his presentation to the Chamber of Commerce: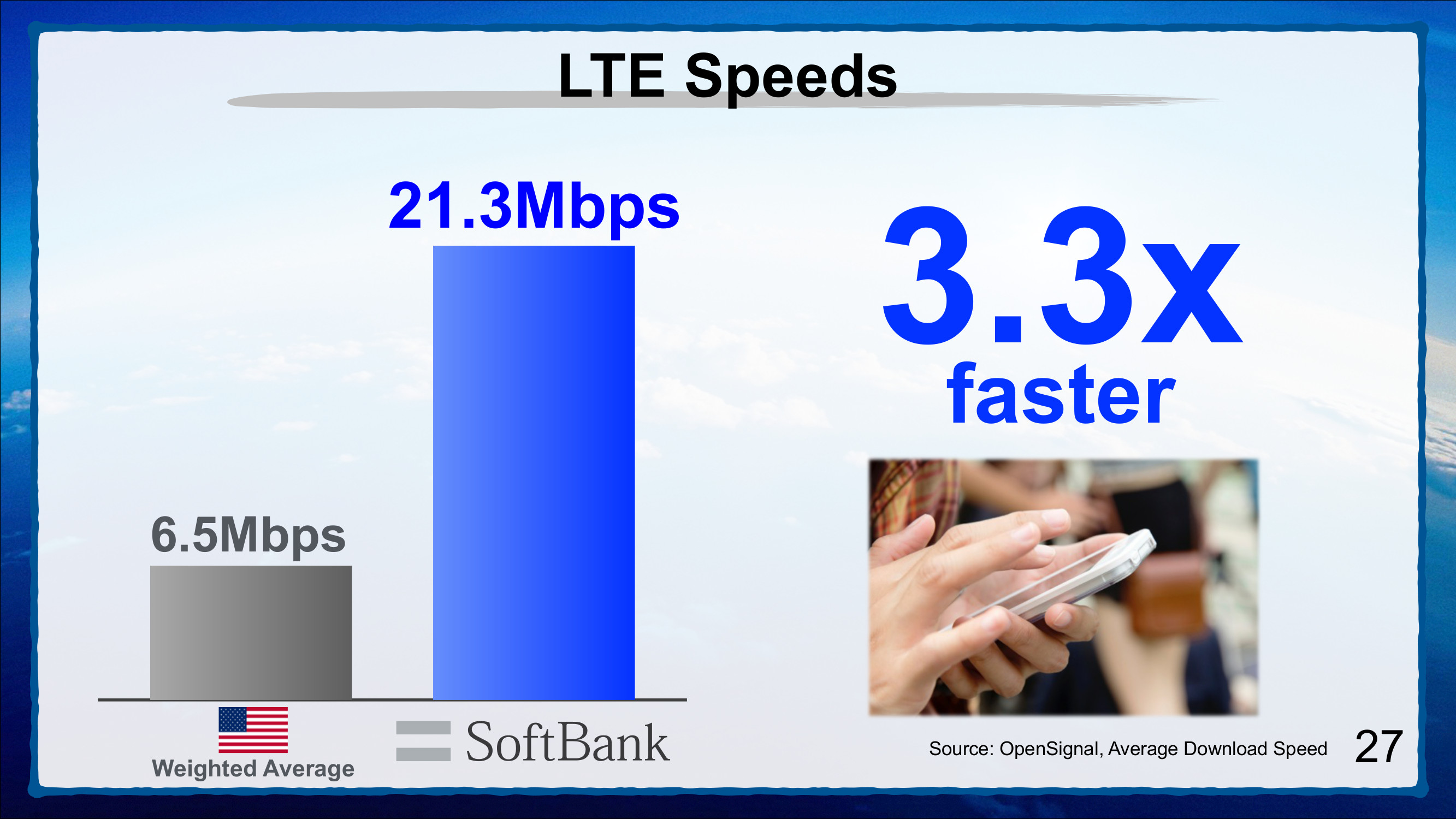 In Japan, SoftBank's LTE service is over 3 times faster than the weighted average speed in the U.S.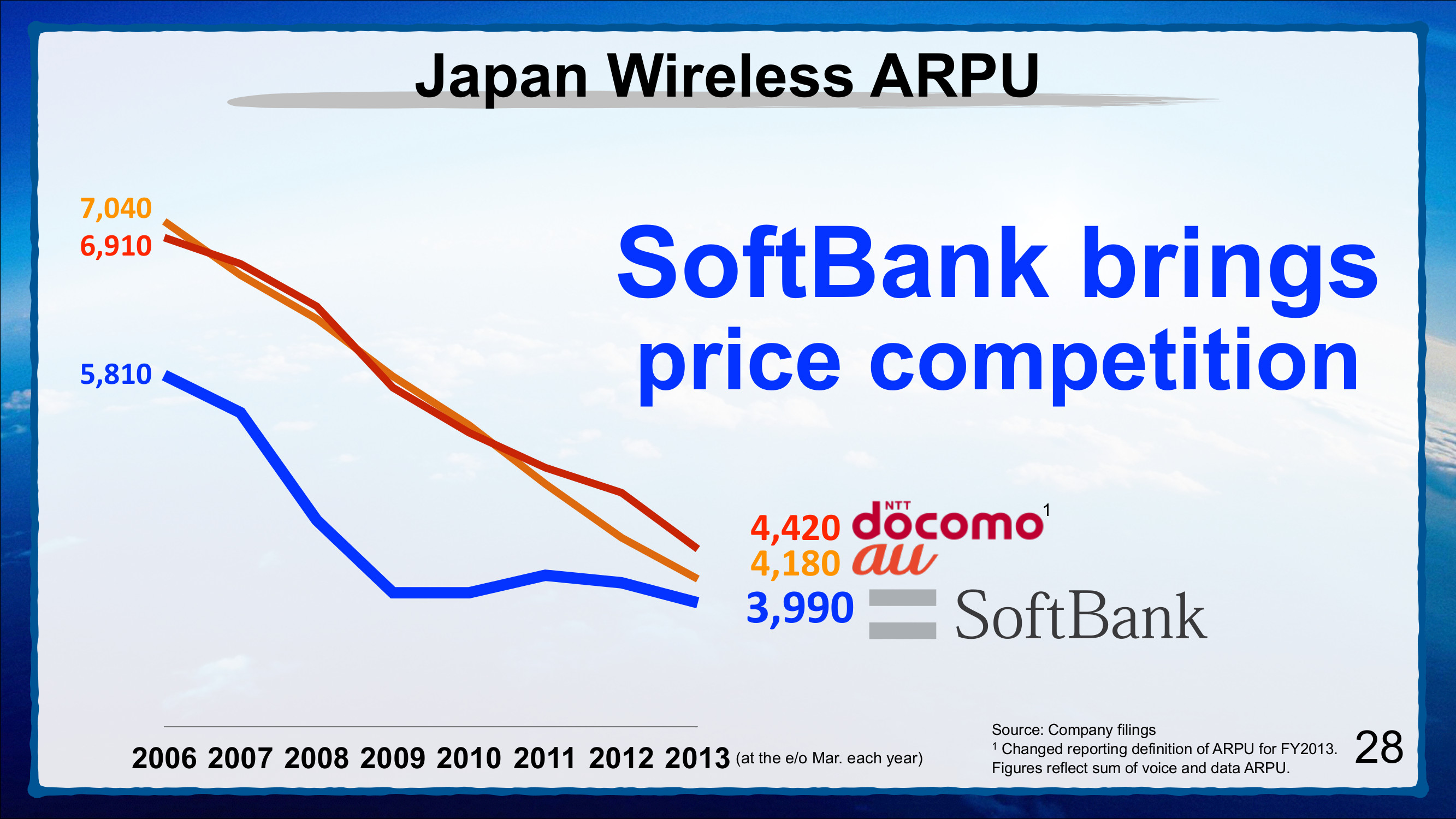 Yet wireless ARPU in Japan has decreased dramatically since Softbank was allowed to bring the competition to NTT Docomo and KDDI.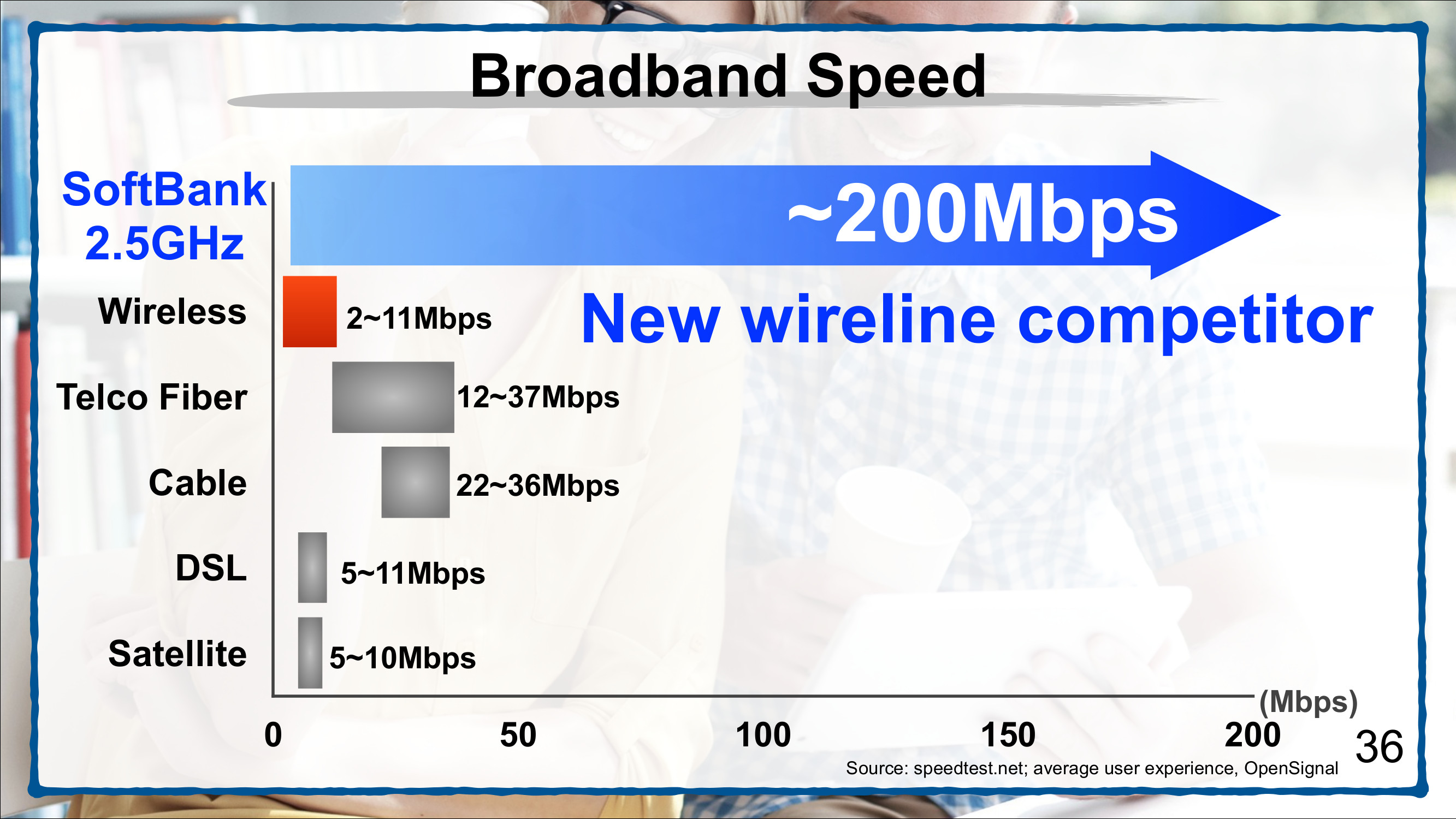 In Son's view, SoftBank has a good shot of bringing wireless broadband speeds of up to 200 Mbps in the U.S., thereby creating a new competitor to the wireline broadband providers. And possibly adding AT&T and Verizon to the mix as well if they are forced to compete by upgrading their wireless speeds.
---
So I feel I need to disclose once again that, at the time of writing this post, I own shares in Sprint. And that is because I share in Son's vision for U.S. Internet infrastructure.
As Son points out in his Chamber of Commerce presentation, the situation in the U.S. is that we have low broadband speeds at high prices. This is true of both wireless and wireline broadband services, and is the result of a lack of competition in the "last mile", which is dominated by the likes of AT&T, Verizon, and the MSOs (e.g, Comcast and Time Warner Cable).
What we need is competition. But there is a problem: the communications sector is the quintessential example of a natural monopoly market. Moreover, because end users now want Internet everywhere, at all times (for the most part), last mile service providers who have a nationwide footprint have an inherent advantage.
If I am an end user, I don't care about what technology I use to connect to the Internet. What I care about is ubiquitous connectivity, high throughput, low latency, and mobility. But fulfilling all of these requirements takes huge amounts of capital expenditures for infrastructure build out and maintenance. This means that scale can be a huge – and perhaps insurmountable – advantage. Which is why you already have integrated players like AT&T and Verizon, and why you see Comcast trying to merge with Time Warner Cable to create a national footprint.
These large communications providers are preparing for a world where they can offer you a very high speed connection wherever you are and convince you to subscribe to their services on a monthly basis. The MSOs, for example, are starting to blanket certain cities with wifi access points, and by partnering with wholesale wireless providers, they will likely be able to fill in the gaps in coverage where end users can subscribe to them for all their Internet needs. But, importantly, plans for ubiquitous, high speed Internet from anyone other than AT&T and Verizon requires that the also-ran wireless providers strengthen their positions in the market.
And that's why I think Son makes a good case for the merger of Sprint and T-Mobile. The fact of the matter is that it will be quite difficult for either of those companies to build out their networks individually and actually make decent profits in a way that allows them to effectively compete against Verizon and AT&T. It's a problem of scale.
If Masayoshi Son brings the competition the way that he has in Japan, I think it will result in decreased ARPUs across the board and better Internet speeds. In return, I'm willing to allow Sprint to merge with T-Mobile and earn a decent return on the capital they invest into the infrastructure build-out.